What it means for the future of Morningstar.
Morningstar Stone and Tile has updated our branding! After several months of careful consideration and reflection, we're proud to introduce a new logo and color scheme that we feel successfully reflects who we are today while positioning us for the future.
For over 35 years, Morningstar Stone and Tile has been the premier high-end supplier, custom fabricator and installer of natural stone and tile in Southern and Coastal Maine. We've built a well-earned reputation for quality craftsmanship and service, and plan on continuing to embrace and build on those values.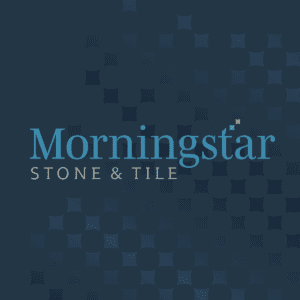 In 2016, our company began the journey to become 100% employee owned—a big evolution for Morningstar and all of us who work here. While we anticipated the process to take seven years, we accomplished it in just four thanks to the hard work and diligence of our dedicated team.
Now, as employee owners, we felt the time was right to revisit together who, at our core, Morningstar is, will be, and how we want it to be presented to the world.
Over the course of several months, we analyzed our values and purpose, what makes us different, and our vision to create a brand identity and messaging that reflects who we've become, what's important to us, and how we do business. Seeing everything written down was a powerful reset for us. We knew that our people are great and do great work, and this process allowed us to refine our identity to reflect it and reinforce common goals.
Take Ownership
Honor the Craft
Culture is Collective
Stay Humble and Helpful
The same thought and attention went into the revised logo and colors. Our employee-owned badge was a point of pride for us, and the overall form of the logo was something we were close to but knew that a refreshed version would better capture our mission to deliver quality, custom-fabricated projects and meaningful customer experiences.
The new logo is rooted in our longstanding reputation but focused on our growth. It's sturdy yet approachable, just as we are reliable, dependable, customer driven, and solution focused. The stars signify excellence, but they also give a nod to our craft and the importance it holds in our values, modeled after mosaic tiles. The movement of the tiles symbolize process. A bolder color palette helps Morningstar to stay current and stand out.
When you boil it all down, all of us at Morningstar want to do a great job, every time. Not just for our customers, but for ourselves too. We push each other to continuously raise the bar in what we do and how we do it. When we run into customers in the community, we feel confident starting up a conversation because we know that no matter what the job was, they received a seamless experience with impeccable results.
Our new brand identity helps communicate and illustrate that promise to ourselves and our customers. We look forward to working with you.